17-Night Ancient Trade Routes Voyage
Booking Dates
09/25/2020 through 10/29/2022
Travel Dates
09/25/2020 through 11/15/2022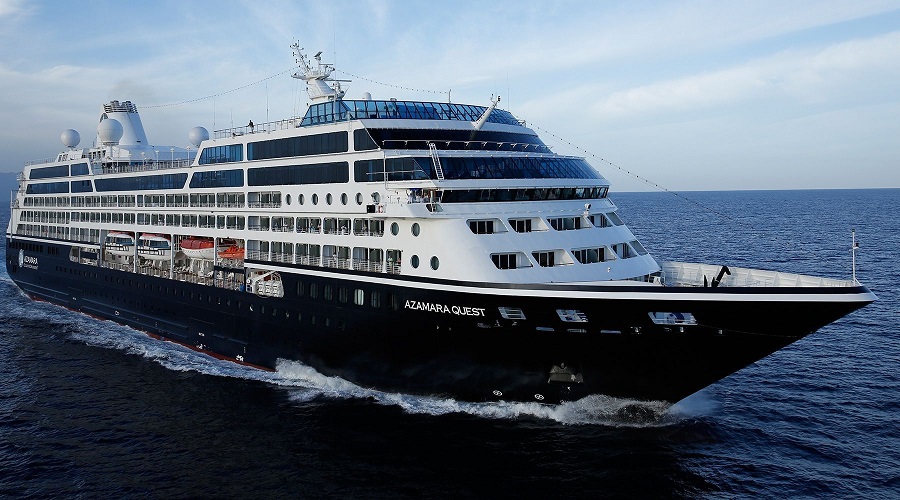 Your voyage begins in Athens, the cradle of European civilization dating back 3,500 years. Explore Athens' most noteworthy landmarks during an archaeological walk beginning at Vasilissis Amalias Street. You'll be able to witness the splendor of the Acropolis, the Temple of Zeus, the Parthenon, and plenty of other sites we all remember from our history books. After all that exploring, unwind during a day and night at sea, where you can sample international dining, see Broadway-calibre entertainment, or simply relax with a nightcap in the lounge.
The next port is Alexandria, an ancient metropolis that was founded by none other than Alexander the Great, where you'll enjoy a late-night stay. While little remains of Alexandria's illustrious past on the surface, the adventurous can embark on a diving excursion to see underwater palaces, temples, and monuments. Prefer to stay dry? Check out Pompey's Pillar, a 67-foot red granite column, or explore the Alexandria National Museum. Next up is another late night – this time in Port Said, home to museums and galleries and just a short hop away from the Sphinx and the Great Pyramids. Cruise overnight through the Suez Canal before an overnight stay in Safaga, known as the "world's greatest open air museum", where you can peruse temples and tombs galore.
Next up is Aqaba, whose warm, clear waters are home to brilliantly colored tropical fish making it a renowned diving destination. During a late-night stay, explore the ancient city of Petra, where magnificent carvings in red sandstone cliffs have earned it the nickname the "Rose City". Your next late-night stay is in Eilat, a popular place to spot sea life, including dolphins, or relax on the beach. Eilat is known for its dining and nightlife, so be sure to snag a table to savor some fresh seafood and Mediterranean delicacies.
After all that exploring, it's time to relax during six nights at sea. Enjoy Azamara's exemplary onboard service, entertainment, and dining options, pamper yourself during a spa day, and soak up all the conveniences of a luxe boutique hotel.
Your next port to discover, and your last late night stay, is Muscat, where you'll be delighted by bustling, colorful souks and breathtaking views from the base of Mutrah Fort. Don't miss the Sulan Qaboos Grand Mosque, the world's third largest mosque, which features a Swarovski crystal chandelier boasting more than 600,000 crystals and a hand-woven prayer rug with an astonishing 1.7 billion knots.
Finally, your voyage concludes with an overnight stay in Dubai, the glittering City of Gold where everything is just a bit bigger and bolder: the world's fastest rollercoaster, the world's first underwater hotel, and the world's tallest building, the Burj Khalifa, are all located here. Shop 'til you drop, cool off at the Ski Dubai indoor ski complex, or pick out a priceless souvenir at Dubai Gold Souk.
| Day | Description | View All |
| --- | --- | --- |
| Day 1 | Athens (Piraeus), Greece | Details |
| Day 2 | At Sea | Details |
| Day 3 | Alexandria, Egypt | Details |
| Day 4 | Port Said, Egypt | Details |
| Day 4 | Suez Canal (Passage) | Details |
| Day 5 | Suez Canal (Passage) | Details |
| Day 6 | Safaga, Egypt | Details |
| Day 7 | Safaga, Egypt | Details |
| Day 8 | Aqaba, Jordan | Details |
| Day 9 | Eilat, Israel | Details |
| Day 10 | At Sea | Details |
| Day 11 | At Sea | Details |
| Day 12 | At Sea | Details |
| Day 13 | At Sea | Details |
| Day 14 | At Sea | Details |
| Day 15 | At Sea | Details |
| Day 16 | Muscat, Oman | Details |
| Day 17 | Dubai, United Arab Emirates | Details |
| Day 18 | Dubai, United Arab Emirates | Details |