North India Adventure
Booking Dates
10/14/2020 through 12/06/2020
Travel Dates
10/14/2020 through 12/30/2020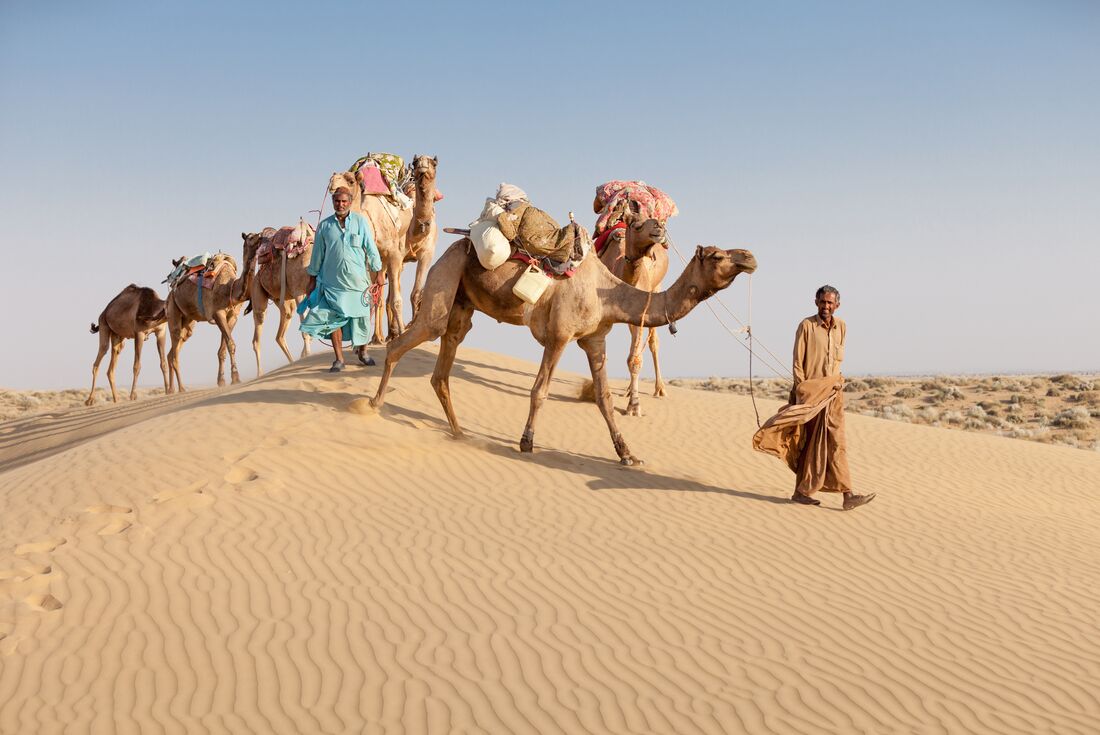 North India Adventure

Rose-hued cities, time-worn desert forts, and holy rivers – discover North India on this 22-day tour. From ancient ruins that punctuate peaceful countryside and everyday city life that swirls with colour and noise, India's energy will leave you giddy with excitement and sporting a smile that's wider than the Ganges. Deeply spiritual yet never dull or somber – the sites of North India are as alive as a crowded laneway, as vast as the Thar Desert sands, as humbling as a Varanasi dawn and as intricate as the Amber Fort. Give your senses a well-earned kick and delve into a North Indian adventure that ticks all the boxes.


Activities
Delhi – Leader-led Old Delhi walking & rickshaw tour
Delhi – Jama Masjid
Delhi – Sheeshganj Gurudwara (Sikh Temple)
Jaisalmer – Camel safari & overnight desert camp
Jaisalmer – Leader-led walking tour
Jodhpur – Leader-led walking tour
Jaipur – Leader-led walking & market tour
Jaipur – Amber Fort
Agra – Taj Mahal
Agra – Agra Fort
Chanderi – Village Walk
Chanderi – Museum
Chanderi – Traditional music performance
Orchha – Leader-led walking tour
Orchha – Ram Raja Temple ceremony
Orchha – Taragram visit
Orchha – Orchha Palace
Alipura – Village walk & Palace dinner
Khajuraho – Kama Sutra temples
Khajuraho – Home-cooked lunch & family visit
Panna NP – Evening wildlife safari
Panna NP – Morning wildlife safari
Varanasi – Sunset candle flower ceremony
Varanasi – Sunrise Ganges boat trip
Delhi – Leader-led Old Delhi walking & rickshaw tour
Delhi – Jama Masjid
Delhi – Sheeshganj Gurudwara (Sikh Temple)
Highlights
Eat memorably with a Rajasthani feast in the Thar Desert, dinner in a restored Alipura palace, cheese-stuffed parathas (flatbread) on a Delhi street corner, and more.
Safari through Panna National Park in search of sloth bears, leopards, and tigers – the population of the latter is thriving after regenerated from the brink of extinction.
Watch the sunrise from a boat cruising slowly along the Ganges, watching as the banks of the sacred river stirs to life.
Check out the explicit erotic carvings of the 'Kama Sutra' temples in Khajuraho, built over 1000 years ago for purposes still hotly debated.
Contrast icons like the Taj Mahal and the ghats of Varanasi with more intimate experiences like a meal with a local family in Chanderi and wandering temples in Orchha.
Itinerary
Destination
Pricing
Terms and Conditions
| Day | Description | View All |
| --- | --- | --- |
| Day 1 | Delhi | Details |
| Day 2 | Delhi - Overnight Train | Details |
| Day 3 | Jaisalmer | Details |
| Day 4 | Jaisalmer | Details |
| Day 5 | Jodhpur | Details |
| Day 6 | Nimaj | Details |
| Day 7 | Jaipur | Details |
| Day 8 | Jaipur | Details |
| Day 9 | Agra | Details |
| Day 10 | Chanderi | Details |
| Day 11 | Chanderi | Details |
| Day 12 | Orchha | Details |
| Day 13 | Orchha | Details |
| Day 14 | Alipura | Details |
| Day 15 | Khajuraho | Details |
| Day 16 | Panna National Park | Details |
| Day 17 | Panna National Park – Overnight train | Details |
| Day 18 | Varanasi | Details |
| Day 19 | Varanasi | Details |
| Day 20 | Varanasi – Overnight train | Details |
| Day 21 | Delhi | Details |
| Day 22 | Delhi | Details |